I don't know about you, but I'm done with shopping. I mean it. All of my holiday shopping is complete. Well, mostly. Note I didn't say my gifts are done. I am working on making as many gifts as I can on my own this year. One problem is that I'm not great at arts. I'm not a fantastic sewer, I can't crochet, I don't really paint. So I thought I would share a few of the things that I'm working on for gifts in the next 13 days. If you are receiving one of these - act surprised and pretend you like it!
This is a toddler sized sleeping bag. The material cost me $2.88 at Walmart. The project took about 15 minutes to complete. I made 2 more out of some slightly more expensive fleece from JoAnn Fabric. They turned out beautifully, I can't wait to give them to my boys as part of their camping play set.
Along with the sleeping bags, I've made a
felt campfire and logs
. (I'm not quite done with the logs). I find that felt is extremely easy to work with and my felt projects are pretty rewarding. My fire is poofier than this and I'll add pictures at a later date (after the logs are completed). The total cost for this project was approximately $1 because I already had poly-fill on hand. No money? Don't limit yourself to poly-fill. I used socks to fill a bean bag for the boys.
Next is a tent kit (called a
Fort Kit
) in this link. Mine is not even as complex as this. A fabric bag with a couple of twin sized sheets (we have extra) and some clothespins. This is all stuff we already have at home, it will just be repurposed into tent making supplies!
I'll come back to the boy stuff in a bit. I'm working on a few fun things for some favorite adults in my life. You may or may not be one of the people on my list. I found these
super easy, cheap repurposed canisters
. I also found some really cute knobs at Hobby Lobby on clearance. I love clearance. These will be filled with different things for the various people who receive them.
One will have a
pancake mix
as part of a breakfast set. Another will have a salad topper mix as part of a salad kit. One might have crayons as part of an art set. There are others - I just have not exactly figured out what will go into them!
Along with these crafty, kitcheny gifts, I am making aprons. I have a pattern with several styles in it! I also have some fun reclaimed fabric to use! This is not my pattern. There are so many cute tutorials and patterns. I can't wait to try a few for my friends!
We are putting together a cookie kit for someone as well. This will be complete with an apron, cookie cutters, hot pads, tray liner, and a few other trinkets. It may also include the necessary supplies for a LARGE batch of sugar cookies and frosting. It will not likely fit in these cute jars.
Another set we are putting together is an arts and crafts variety box. Each kit has a variety of crafty odds and ends tucked into shoe box for hours of bonding fun with the families that will receive them. No pictures or tutorials available on this one.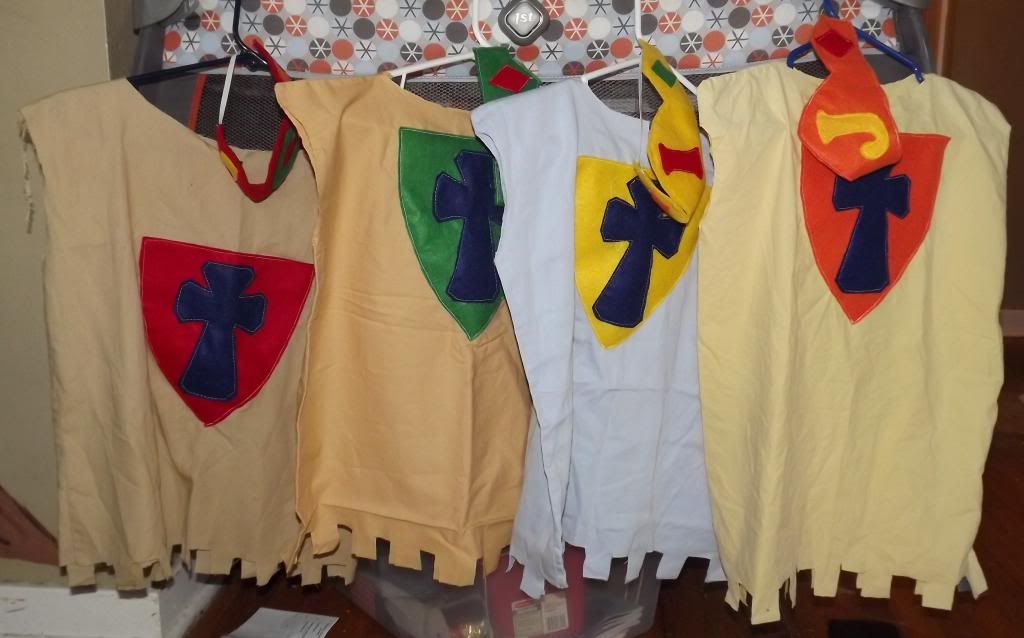 One final project: Knight costumes. These will be for my older 2 boys and my middle 2 nephews. They'll all get them when we celebrate Christmas together. I anticipate an amazingly fun time (but isn't it always?). These costumes were SO easy to make using old pillow cases and a little bit of felt. The total cost for each was around $3. The crowns are double sided, one side has 3 shapes, the other has 2 shapes and an initial. Even a so-so sewer can do it!
What are your Christmas projects? Share a link in the comments below!