The complete MonkiSee kit!


Congratulations Lesli, Comment #77, you are the winner!
Both of my boys love books. They love to "read" and to be read to. When we had the opportunity to review Intellectual Baby's "MonkiSee" program, we jumped at it. What a fantastic addition to our home preschool curriculum!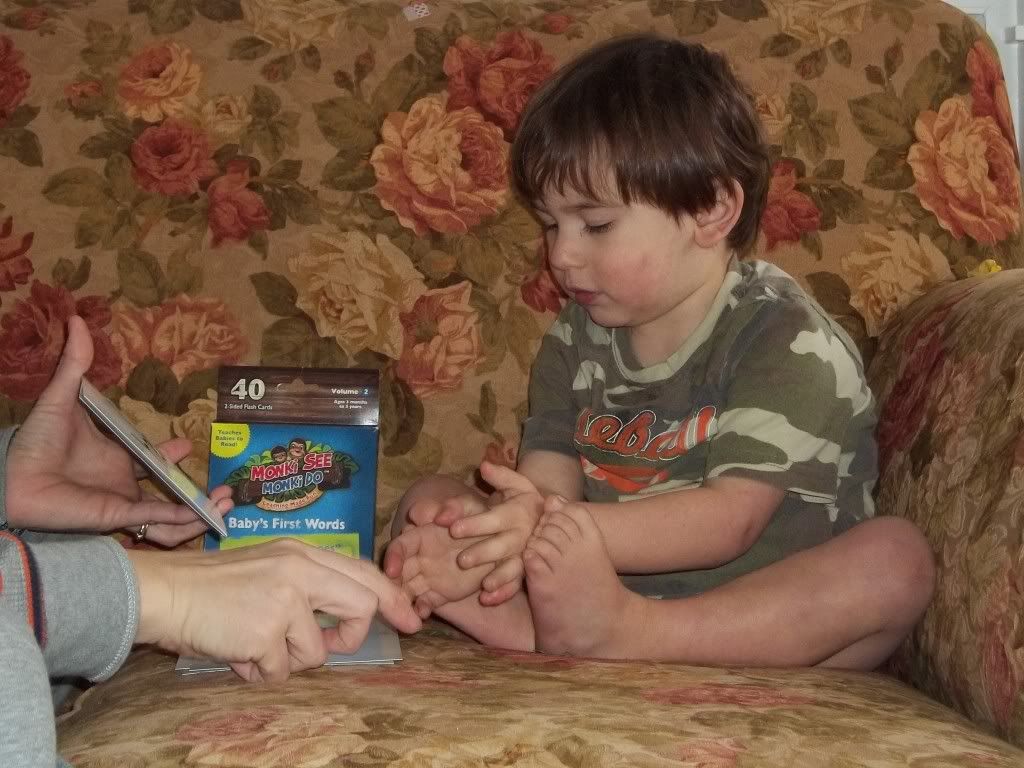 Enjoying shape flashcards
MonkiSee is a learn to read program for children 3 months - 4 years old. This great program helps parents tap into their children's learning potential, by implementing videos, books, and flashcards. The products can be used individually or as a set that reinforces itself. They are great quality products that babies and toddlers love using.
I could hardly believe how quickly my boys fell in love with MonkiSee products. My Monkey wants to watch the videos every day. His favorite is the shapes video. You know what? He's actually learning his shapes. This morning he was able to identify several shapes that we had not worked on with flashcards yet (hexagon, diamond, pentagon...)
The videos are simple and cute with a VERY catchy theme song. We find ourselves singing it all day long. I was surprised by the simplicity of the videos, but the boys absolutely love watching them. I hear Monkey repeating a lot of what they're saying as he absorbs it as well. It took Crackers a little longer to get interested, but he really does not enjoy television very often.
The books are simple with wonderful pictures. The pages with the "story" are blank other than the words. I love this about them because it helps us focus on the words before we connect them to the pictures (which also have a couple of words on them). Monkey brings the books to me again and again. He especially loves the one about colors.
The flashcards are great quality with big words and pictures to match. Monkey actually wanted to do the flashcards this morning instead of watching a television show. He's a television lover, so it's rare for him to give up an opportunity to watch it.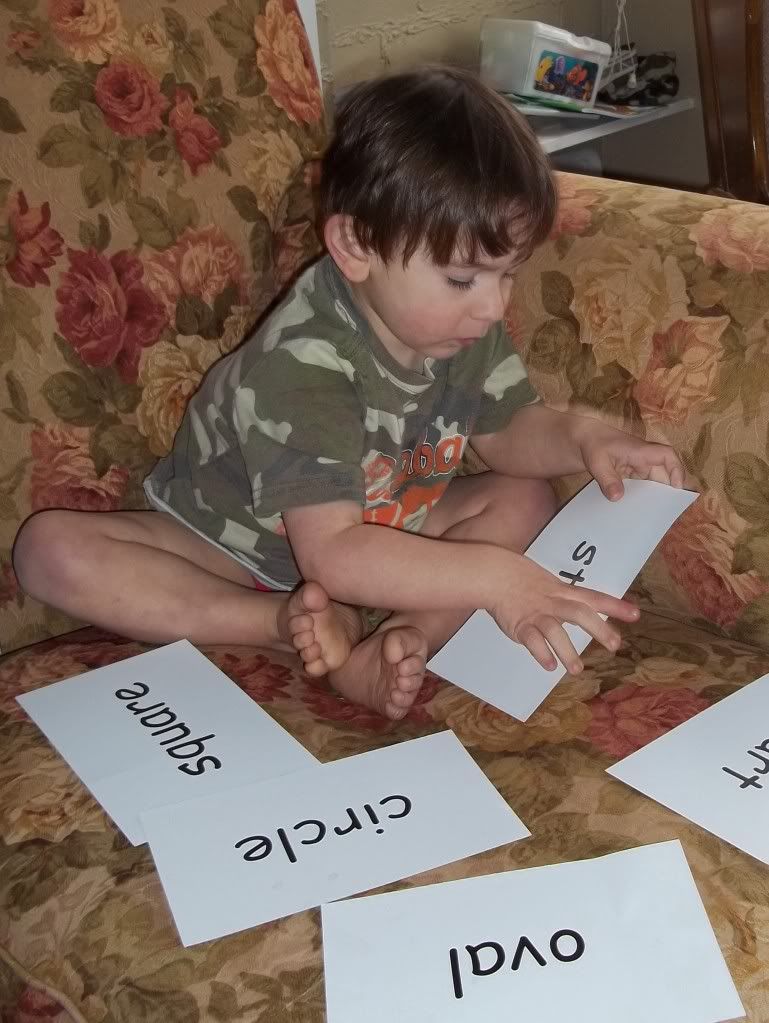 Testing Monkey to see what words he recognizes.
Do I think that MonkiSee makes my children smarter? Nope. I think it helps me find new ways to tap into their brains and help them store information. It gives us a great way to spend some 1 on 1 time. It gives them words for things they see every day.
Overall, I think that Intellectual Baby has made an incredible product and I would recommend it to anyone with small children. I think any family, that cares about educating their children early, would benefit from MonkiSee products.
BUY IT:
You can buy MonkiSee products
HERE
. Take some time to look through all of their great products.
WIN IT:
One reader will win
a set of all 3 MonkiSee videos
to share with their family! This giveaway opens immediately and will end at noon on March 22. Remember to leave entries in the comment form below and add your email address to each comment. Open to residents of the US.
Here's How to Enter:
Mandatory
:
Follow my blog, leave a comment below telling me why you want to win.
Additional Entries:
Leave 1 comment for each additional entry.
1) Visit
Intellectual Baby
and tell me something you like about their products.
2) Subscribe to my email newsletter (upper right hand column of my blog).
3) "Like" Intellectual Baby on
Facebook
.
4) "Like Crum's This N That on
Facebook
, OR "Follow" me on
Twitter
.
That's it, up to 5 entries in this giveaway! Good luck.