I recently had the opportunity to review one of the 3 Mother-Ease diapering systems. Yep, you read that right, they have 3 different options for diaper system styles! I chose to test the Sandy's Diaper with an air flow cover. I chose a size 2 because it sounded like it would be the best fit for Crackers and Monkey. When it arrived I was stunned. I thought it looked enormous. This thing has got some stretch power (I hear that it fit over the clothes of my 40lb nephew).
The legs are not too loose, Sandy's diaper is a success on Crackers
For the first couple of weeks I only used it on Monkey, and he only wears diapers for sleep time. I had no leak problems at all on Monkey. At first I used it with the insert, what an amazing capacity that diaper has! I think it is the best overnight diaper we own. He loves it because he can pull it up and down like underwear and does not need help to get it back on when he potties at night. I haven't tried it yet without the cover, but I think that will be our next step to night time independence as far as potty training goes.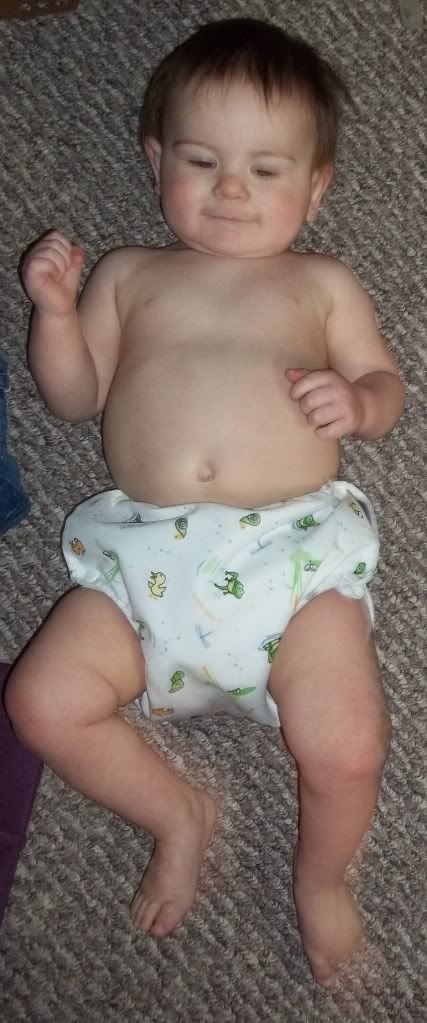 With much trepidation I chose to try it on Crackers, first he only wore it during the day and without clothes over it - I was afraid the legs and waist would be too big and leak all over. I am glad to share that I was wrong, very wrong. Mother-ease, though it looked big, fit both of my boys like a charm! (In fact, Crackers is sleeping in it as I type this review). The diaper seems comfortable and allows great movement. We have not had any stink problems with this diaper so far, that is GREAT news as well.
I love the side-snaps that allow air to flow into the diaper and keep it from holding in a ton of ammonia, we've had a bit of the problem with some other wraps. I also love the color and cover choices. We had a hard time picking which cover was our favorite!